Kyle Walters
Thinking about getting a Personal Trainer are ya?
The new year is just around the corner which means everyone's got the 'new year, new me' fever! But this is the year you're going to smash it right? Maybe you thought about getting a Personal Trainer to make sure that this is the year - all the others were just warm ups. But before you start throwing your money at the first trainer you speak to at the gym, here's my 5 tips to consider before you make that commitment.
1. Shop around
Now here's something that'll blow your mind..... PTs are not universal! 😲 We all have our own approach to training so talk to as many trainers as you possibly can to see if their approach will suit you. If you're new to it all then maybe asking for a trial session or pay for a few sessions up front to see if they work for you. Away from the knowledge, enthusiasm and the amazing shape the PT is in, get to know them on a personal level. Trust me when I say that there's nothing worse then spending an hour with someone with no common boundaries and the conversation is dead 😖
Remember that Personal Trainers don't know everything about exercise and that if the PT is saying that they can cater to all your needs, they're lying. 🤷‍♂️
2. Be prepared to put in the work
Many people forget this one. Getting a PT doesn't mean getting results, on average you'll be seeing your PT 1 hour a week which leaves the rest of the week for you to defend on your own. Your PT with give you the tools (food, training advice etc) but it's you that's going to have to do the work.
3. Tell them exactly what you want
It's your money, your investment, so be forthcoming with exactly what you want as an outcome. Doing this sets a clear goal, and both you and the trainer know what you're aiming for. Don't feel silly in your request but be prepared to receive feedback on whether it's realistic or not.
4. Have the desire to learn
This is a biggie! If you're paying for a personal trainer just to be told what to do then you're wasting your money. That's like going to school and being told the answers of the exam by the teacher, you've not learnt anything. The trainer will get you to your aesthetic or strength goal but you should gain knowledge of how to maintain or improve on your goal when you stop having personal training.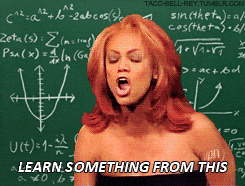 5. Make sure you're emotionally ready
Oh hang on, this one is a biggie, the real biggie! The truth is that your fitness journey is going to be hard, not only physically but mentally, so make sure your mentally in a good place before you commit to the training as you don't want to add to everything else that may be going on in your life.
I hope that this hasn't put you off, we'll actually if it has then you wasn't ready to have a Personal Trainer and I have potentially saved you a few coins 😁 But if you're still up for it then give it 100% and you'll succeed.
Much Love,
Kyle